Aug 8, 2018
Comments Off

on August 2018 Newsletter
solmagik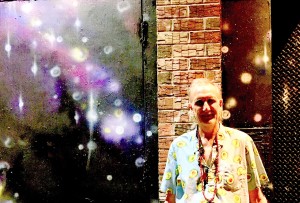 HAPPY AUGUST 2018!
Hi,
WELCOME to AUGUST a Very POWERFUL, DYNAMIC 8 ENERGY!
MY birthday is August 21. Thank you for your support, inspiration, reading my works and sharing these Newsletters.
BLESSINGS to your Divine harmony and receive my great big hug. THANK YOU.
I LOVE the many dimensions, frequencies, energies that this month brings. Before you read what I have to say, I feel it's important that you talk to and get to know the 8 of AUGUST.
* * *
THE SECRETS OF THE 8
FIND a comfortable place where you can relax and feel very comfortable. Ok.
TAKE a few deep breaths. As you breathe go deeper relaxed with each breath you take. Close your eyes and relax your eyes. Go into a place behind your eyes, listen to your breath and heart beat and go even deeper, deeper relaxed. With each exhale going deeper and deeper relaxed.
IMAGINE that you'e sitting at your third eye looking at the word August with the numeral 8 on a illuminated golden door in front of you. Ask permission to enter this magical place.
GREAT. Now ask, what is it that you need to know about August and the 8 energy and what does it wish to tell you about yourself.
LOOK at the door as it opens and enter. Welcome to the world of August an 8. Witness what you see, feel and hear. Allow all your senses to be open.
LISTEN to the whispers, wonders inside the golden door. After a few moments and or minutes go back through the door you came through, see it closed and say thank you.
OPEN your eyes and sit with your self. Reflect on what just happened. Write it down. Get ready for a glorious magical day.
* * * * * * *
LET'S discuss what is happening in AUGUST 2018.
* * * * * *
THE FASCINATING, REVEALING FORM OF AUGUST AN 8
8 is made up of 2 circles and let's see them as golden spheres.
THE bottom sphere is your physical, material, money world.
TOP is the mental, full of thoughts and ideas, intuitive, spiritual energy.
THE POINT that attaches the 2 spheres is known as the "Point of Infinity" a place of infinite wisdom.
TO experience these great opportunities presented to you by the 2 golden spheres do this.
REFLECT on what experiences, any kind of stuff blocks you from accessing these energies of the 2 spheres.
WORK on them, let go and be free so you can circulate and be in harmony, equipoise with the 8.
FEEL the power of being in equilibrium!
TURN the 8 horizontally and it's the mother's breasts, A metaphor of giving soul juice, energy to humanity.
MOVING on you step into infinity and all it's no space, no time intelligence and extraordinary experiences.
ACCESS what you need to grow and evolve!
* * *
LET'S DO SOME NUMEROLOGY!
" Everything in the Universe is number and that number has a meaning."
– Pythagoras, Father of Mathematics and Numerology.
NUMEROLOGY – THE LETTERS & NUMBER VALUES
A = 1 J = 10 S =19 1
B = 2 K = 11 T = 20 2
C = 3 L =12 U = 21 3
D = 4 M =13 V = 22 4
E = 5 N =14 W =23 5
F = 6 O =15 X =24 6
G = 7 P = 16 Y = 25 7
H = 8 Q =17 Z = 26 8
I = 9 R =18 9
TO go deeper in discovering the soul meaning of a word, take it's letters and put in it's number equivalent.
* * * * * *
AUGUST = 1 + 3 + 7 + 3 + 1 + 2 = 17/8 DESTINY
YOU are a strong leader, visionary, producer. In this energy embrace all your business skills, banking, stocks, real estate, law, government and psychological experiences.
TAKE these experiences with what ideas, thoughts you have and share them and combine them with others. Execute them, make them come true in your vision so you can create Miracles!
* * *
ACTIVATE YOUR TOOLS OF ALCHEMY IN AUGUST 2018!
THE SOUL SIGNATURE OF
AUGUST an 8 SAYS:
– DO IT!
– MOVE and Light up your body, cells, blood and DNA when you walk, dance, exercise and or do yoga!
– BELIEVE, have faith, know and own your power.
– DO not be afraid and be Fearless!
– THEN you can be effective and know what is going on in the world and with others and not be physically and emotionally affected and drained in this play of consciousness.
– ASK yourself, WHAT do you need to do to execute your ideas, plans and see them manifest, especially those that have been stopped or blocked!
– GO out in the world and join forces with others to make a difference!
– LISTEN!
– ACCEPT where you're living, what job you have and what you're doing as this is your power of the Now!
– " EMBRACE AND
LOVE YOUR BODY,
IT IS THE MOST
AMAZING THING
YOU WILL EVER
OWN.
– Meredith. Kimberly
– VISUALIZE, Connect the 2 golden spheres of the 8 energy creating a bridge with your physical, spiritual worlds and inner awesome being.
– FEEL and experience your cells, organs, blood being activated as light energy, your life energy.
– NOW as a being of luminosity your ready to illuminate other's!
" DIRECT your energy toward a goal or target. If you would learn to listen you would discover an innate inner guidance that steers you toward your own wellbeing"
– Barbara Marciniak who I took a workshop with in NYC,1999.
– BE mindful of the social, economic, educational, military businesses that governments have that create their agendas with their people and other nations.
– GO down the rabbit hole of the 8's infinite circles to know what is really going on with your health, wealth, relationships, family, friends and the world around you.
– ASK for help from a doctor, therapist, Numerologist, Hynotherapist or person who understands you and your spiritual practices and mindset.
– DO everything you need to do to eat and enjoy organic foods, healthy water, have organic, biodynamic wine and non gmo beer to keep your body, mind free from toxins.
– GOOGLE it as it's been reported that California wines have percentages of radiation, compromised by the effects of the Fukishima Japanese out flow of radiation still going on!
– THE GODFATHER of GMO's Robert T. Farley now a consultant for Bayer as they bought the Monsanto company this June 2018, wants to make GMO's, people friendly consuming foods so be aware!
– IN the Biotech world it's inevitable that in the future now food will be 3 D printed as I feel in some places it's already happening.
– GUNS can be 3 D printed and laws are being set up to prevent this.
– I'VE been blessed to be around the A list people who have made a difference.
– WHEN you meet and share in any setting as I have sacred Numerology with Sargent Shriver, Eunice Kennedy, Kevin Klein, The DiCaprios, Melanie Griffith, Donna Karan, Ram Dass, delegates of the United Nations, the Transportation Secretary of Greece and others they give you their full divided attention and look you right into your eyes.
HONOR all relationships that are family, friendly, personal and social as they are a major experience for your growth and evolution.
– WHEN you honor, you acknowledge and are then in a state of grace and a channel of the light of love of life force.
– YOU feel so beautiful as you create a blanket of protection, relaxation within and around you.
– FOR whatever reason a person who is of bad intent, corrupt, a con artist or has some other agenda is affected by your Light of Life and it's difficult for them to act negatively against you.
SAY IT:
– "I am finite mind, infinite knowledge, infinite power, infinite awareness, infinite wealth and infinite love. I am perfect in my heaven and ready to Share!"
LOVE YOUR LIGHT OF LIFE!
FEEL your Power, Force & Share It!
NOW GO AND SOAR !!!!
* * *
* " Begin to ask your soul today. Show me how to by-pass the lies and the deceptions that are given to me and humanity as a truth. Show me how to see the truth in every situation, in every word, and in every person."
– Gillian Macbeth Louthen
* * * * *
GO to www.youtube.com
OR
GO TO MY NEW JULIAN MICHAEL CHANNEL & MY FACEBOOK PAGE OF JULIAN MICHAEL
TRANSFORM & BE ENLIGHTENED by 2 MEDITATIONS!
"Julian Tesla Meditation" of 11 minutes to create a stellar Tesla Electromagnetic Field within and around you to go and light up Humanity!
THE NEW " Julian Healing Meditation" of 12 minutes will create a divine smile in your heart as you'll feel whole, healed and ready to create Magic!
* * *
* * * IN AUGUST 2018 POWER – UP, BREAKTHROUGH & PROSPER…
MONEY = 4 + 6 + 5 + 5 + 7 = 27/9 DESTINY
THE 27/9 asks you to share and know the truth and spirit of this energy of prosperity, wealth and richness known as Money.
* * *
PROSPERITY PRAYER
"GOD is my un failed infinite supply. Large sums of money and abundance come to me quickly, in peace and in perfect ways. My decision to let Universal Power work for me, frees me from the need to press for what I desire." – Anonymous
* * *
GET A GIFT
For SUMMER
OF NUMEROLOGY
& A PAST LIFE HYPNOSIS
* * * * * *
DO IT!
PEARLS OF THE DAY – IS A DAILY HAPPENING!
GO to my Facebook: Julian Michael, Twitter: Julian Michael11, LinkedIn: Julian Michael and Instagram: solmagik for a Pearl of the Day a Pearl of Wisdom everyday.
GET information of events as well, happening in New York and across the country and other stellar things to Evolve in the Pearls of the Day.
CALL 323-384-1333, Text and Message Me.
THE JULY 2018 Newsletter had a loving response! Thank you.
PLEASE review, share and see other enlightening Newsletters on my website www.julianmichael.net Learn more about Numerology, Hypnosis and more.
MY Face book Julian Michael group "Numerology Pearls of the Day" is my own version of a mini Newsletter. Enjoy it!
JOIN the group or tell a friend and receive a precious message and photo of inspiration everyday. Use these Pearls of Wisdom as a tool to get aligned to embrace the day and feel Delicious!
RECEIVE the Pearls TODAY!
BE Empowered and Illuminated!
CALL or Email me for a personal session awakening the Celebrity in YOU!.
* * * I am more then ready to serve you with professional insights, career advice, success in your business and personal relationships.
I do Name changes, A Name for your new business, Naming your Baby and or helping you to sell your home.
AS a medium, Reiki Master, Reconnective Healer and Spiritual Teacher, I do House Clearings and physical, mental, emotional and spiritual Exorcisms.
I AM a Hypnotherapist and Past Life Regressionist.
.
SEE me personally, on the phone, SKYPE – solmagik, Message me – Julian Michael
* * *
BE THE 8 OF POWER – PROSPERITY – INFINITE WISDOM IN AUGUST 2018
PEACE, BLESSINGS, WITH ALL MY HEART,
LOVE JULIAN xoxo
Photo taken by Kai outside Ideal Glass Studio in NYC