Sep 8, 2016
Comments Off

on September 2016 Newsletter
solmagik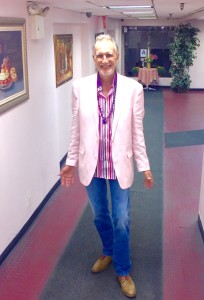 DEARLY BELOVED …
* * * * CELEBRATE SEPTEMBER * * * *
ARE you ready to evolve in your greatness and be Unconditional Love?
SEPTEMBER = 9 + 5 + 7 + 2 + 5 + 4 + 2 + 5 + 9 = 48/12/3 DESTINY
A 3 Destiny signifies to express your creative and tele – communication skills.
LET'S go deeper. The 12 of this 3 DESTINY is " THE HANGMAN" in Tarot. You are hung upside down and asked to see the world from another perspective. In doing so the bigger picture is shown to you.
* * *
" Begin to ask your soul today. Show me how to by-pass the lies and the deceptions that are given to me and humanity as a truth. Show me how to see the truth in every situation, in every word, and in every person."
– Gillian Macbeth Louthen
* * *
TRIPLE STARGATES OF 9
A STARGATE moves you into a new energy of awareness. You deal with old programs changing you to purge, let go of the old and embrace a new paradigm of living a new vision.
THERE will be a huge life changing experience especially if you'd done the work with your soul consciousness.
DO not walk around being a victim of your past, as this will create a lightening bolt damaging your life style, health and wellbeing.
SEPTEMBER a 9
2016 is a 9 Universal Year
Together:
9 + 9 = 18/9 Universal Month creates a Triple Star Gate.
THESE days are very auspicious in the Star Gate Experience:
September a 9 + 9 + 2016 (9) = 27/9 Universal Day (U.D.)
9 + 18/9 + 2016 (9) = 36/9 U.D.
9 + 27/9 + 2016 (9) = 45/9 U.D.
* * * * *
OVER 1170 views are CALLING YOU on www.youtube.com
YouTube
www.youtube.com
Enjoy the videos and music you love, upload original content, and share it all with friends, family, and the world on YouTube.
PUT in "Julian Tesla Meditation" and in 11 minutes create a Tesla Field, a solar sun of your full potential within and around you ready to create Miracles!
* * * * * *
I AM so happy to share the secrets of SEPTEMBER with you!
* * *
ACTIVATE YOUR TOOLS OF ALCHEMY IN SEPTEMBER 2016
" Everything in the Universe is number and that number has a meaning."
– Pythagoras, Father of Mathematics and Numerology.
THE SOUL SIGNATURE OF SEPTEMBER a 9 SAYS:
– LIVE, love, let go, do the work and let God to Progress!
– LOOK in your mirror of life experiences and bare your Soul.
– ARE you happy in what you see, feel and what you're doing?
– GET to like and love yourself to transform your life, work, environment and wealth.
– EASY said then done, isn't it?
– THE Bhagavad-Gita – Gita, the sacred book of India says, "Nobody is out there except you."
– A year ago paraphrasing what the Dalai Lama said at Radio City Music Hall " It's time for people to know there are past lives. To take what happened then, process it with what is going on with you now, so you can evolve."
– WHAT if, you're mom screaming at you or boss are representations of yourself. All that is happening in your life and including Hillary and Trump and their politics are different parts and dimensions of you.
– RECOGNIZE what part of your past, present, future and now is your mom, dad, family member, teacher, politician, awareness, a peacemaker, terrorist, government policy, 9-11, forgiveness, romance and love.
– WHAT person that exists in you is screaming, yelling, cheating, lying, abusing or even trying to kill you.
– LOOK at the experience or person and discover where it lies inside you. Work with it. Take what serves you and makes you feel comfortable. Move forward in harmony, feeling great and empowered.
– EVERYTHING and everyone is you and that's what the 9's wisdom is.
– YOUR true mission is to know that you exist to live, work, share, play and evolve as unconditional love.
– HERMES is the great philosopher who brought light to the world by sharing his wisdom.
– BE the " Candle at the window of the Soul" as Hermes.
– GET your imagination going, as it's a doorway to the intuition, ESP, PSI and elevating your mental powers and soul's DNA.
– SEE the spark, crystal and piece of love in everyone's heart.
– LOVE nature, walks in the park, putting your back to a tree, splashing water on your feet as you run the beach.
– DO you really feel there's a political solution to what is going on?
– ARE the government, media and what you see on the Internet telling the truth?
– IF you are a Muslim and or around Muslims is your life threatened?
– WHAT If Hillary Clinton and Donald Trump are a reflection of the consciousness of this country and it's people's hopes, prejudices, lies and you!
– YOU'LL see and feel very soon, if you want to take the red pill or blue pill and why.
– SEEK counseling and help as the energies can be a nightmare and dangerous to your health and well being now!
* * * " " We are more alike, my friends,
Then we are unalike.
We are more alike, my friends,
Then we are unalike. "
– Maya Angelou: The Human Family
YOU ARE UNCONDITIONAL LOVE!
– MOST diseases are the cause of a weak immune system. Empower it with the right nutritious foods, herbs and vitamins
– SAY it Out Loud:
" Sickness, disease, any injury is not a normal state of my being. My mind, body and spirit embrace perfect health in every way and everyday."
MONEY = 4 + 6 + 5 + 5 + 7 = 27/9 DESTINY
– THE 27/9 Destiny signifies to change your approach to your finances. See MONEY as an energy to be grateful for, a blessing to utilize and a very special exchange with others.
– SAY It Out Loud:
" MONEY is a beautiful energy that flows to me endlessly. I attract it; it's value, essence and spend it on things that are necessary. I love the energy of money and what it brings."
* * *
SAY IT OUT LOUD at least 3x a day:
"I love myself.
I am prosperity: physically, mentally, emotionally, spiritually and financially.
I am ready to serve.
I am pure consciousness and love."
– JULIAN MICHAEL
* * *
GET A GIFT
For FALL
Special Deals Of
Sacred Numerology Sessions &
Hypnosis Past Life Regressions!
* * * * * *
PROSPERITY PRAYER
"GOD is my un failed infinite supply. Large sums of money and abundance come to me quickly, in peace and in perfect ways. My decision to let Universal Power work for me, frees me from the need to press for what I desire." – Anonymous
* * *
I AM IN LOS ANGELES UNTIL SEPTEMBER 13th. LET'S MEET…
CALL 323-384-1333, Text and Message Me. GO to my Facebook, Linkedin and Instagram for information to Evolve!
YOU ARE THE POWER an 8 AUGUST 2016 Newsletter
Was beautifully received, Thank you for all your Birthday wishes and love.
PLEASE review, share and see other enlightening Newsletters on my website www.julianmichael.net Learn more about Numerology, Hypnosis and more.
MY Face book Julian Michael group "Numerology Pearls of the Day" is my own version of a mini Newsletter has gone over 1800 members and is growing.
JOIN the group or tell a friend and receive a precious message and photo of inspiration everyday. Use these Pearls of Wisdom as a tool to get aligned to embrace the day and feel Delicious!
RECEIVE the Pearls also on my Twitter: JulianMichael11.
ON Instagram, go to solmagik as it's over 730 followers. Be Illuminated!
CALL or Email me for a personal session of being a CELEBRITY NUMEROLOGIST awakening the Celebrity in YOU!.
* * * I am more then ready to serve you with professional insights, career advice, success in your business and personal relationships.
I do Name changes, A Name for your new business, Naming your Baby and or helping you to sell your home.
FEEL POSSESSED?
AS a medium, Reiki Master, Reconnective Healer and Spiritual Teacher, I do House Clearings and physical, mental, emotional and spiritual Exorcisms.
I AM a Hypnotherapist and Past Life Regressionist for over 27 years, I give sessions in Person, Skype or Facetime. 

ASK me how Hypnosis is a very life–changing and simple modality that will bring you wellness of being, success and prosperity.
* * *
EVOLVE IN YOUR SOUL'S GREATNESS A 9 TRIPLE STARGATE IN SEPTEMBER 2016
PEACE, BLESSINGS, WITH ALL MY HEART,
LOVE JULIAN xoxo
Photo of Julian Michael by Tamara Samilenko
at The Ukranian National Restaurant