Oct 6, 2013
Comments Off

on Julian quoted in article by Yahoo Shine!
solmagik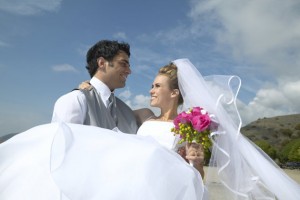 Forget June. Why Brides Suddenly Want to Get Married on a Tuesday in November
By Alexis Clark, Senior Features Editor | Love + Sex – Thu, Oct 3, 2013 12:19 PM EDT
Photo by: Getty Images
Brides aren't usually clamoring to get married on a Tuesday in November. But with November 12 of this year translating to 11/12/13, thousands of soon-to-be-wed couples are choosing that very date to say "I do."
More on Yahoo Shine: Be the DIY Bride Pippa Wants to Be (Someday)
Brian Beitler, executive vice president of David's Bridal, tells Yahoo Shine that while Saturday is still the most popular day of the week to wed in America, many couples are putting the date ahead of the day. "It does not matter if the date falls in the middle of the week or on the weekend."
Beitler says his company began tracking wedding date trends after approximately 66,000 couples decided to get married on 07/07/07. "We think brides look for special dates because that's how they want their weddings to be remembered," he explains. "For 11/12/13, we are projecting about 2,300 weddings that day compared to a little over 350 that took place last year."
More on Yahoo: Cancelled Wedding Business Creates Chance For Cheap 'I Do'
Although it's one thing to choose a date that sounds catchy, numerologist Julian Michael says that there can sometimes be a deeper meaning behind these dates.
"It's really more about the numbers than the dates themselves," according to Michael. "There are a lot of philosophies about certain numbers. If you look at 11/12/13, the number 11 is really significant. You see it everywhere and some people who believe its connection to angels make a wish whenever they see it."
But for those of us who aren't fluent in the language of numerology, Michael explains that just seeing a special pattern of numbers will prompt people to choose a date because it appears to be symbolic. "If you look at 11/12/13 or 11/11/11, people may not know the meaning behind each number but they will think, 'Wow, this must mean something.'"
For 40-year-old Angela Walton of San Diego, her upcoming wedding on November 12, 2013 was carefully selected. "My fiancé and I are both veterans of the Marine Corps," she tells Shine. "We knew we were getting married this year so we thought, the Marine Corps anniversary is on November 10th, Veterans Day is on November 11th, our wedding should be on November 12th. It's the perfect trilogy."
The final shot brides and grooms will have at marrying on a consecutive date will be 12/13/14 and Beitler is projecting an increase in weddings, despite the fact that December is usually a slow month for nuptials. (After that, your next shot at a true consecutive date won't be until January 2, 2103)
"Numbers like this ignite our superstitions and our search for meaning," Wendy Walsh, psychologist and author of "The 30-Day Love Detox," tells Yahoo Shine via email. "People think we must be special if we're the only generation to ever see this sequential date, right?"
Whether or not brides choose their wedding dates with more meaning than others, there is an inadvertent perk to iconic dates, according to Walsh. "It will make it easier for husbands to remember anniversaries!" She's got a point.