Dec 11, 2016
Comments Off

on December 2016 Newsletter
solmagik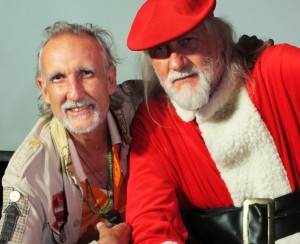 HI BELOVED FRIEND,
* * * * CELEBRATE DECEMBER * * *
MERRY CHRISTMAS & HAPPY HOLIDAYS
DECEMBER = 4 + 5 + 3 + 5 + 4 + 2 + 5 + 9 = 37/1 DESTINY
EXPRESS joy with the 3, Wisdom and spirit a 7 to take charge, being fearless, confident, risk taking and being One with everything and everyone a 1 Destiny.
* * *
HILLARY CLINTON MEETS HER 9 PERSONAL YEAR
HILLARY CLINTON was born October 26, 1947
THE PERSONAL YEAR is the path you walk on and all the experiences you'll have according to the number vibration from Birthday to the next Birthday.
PERSONAL YEAR of HILLARY CLINTON
= 10 + 26 + 2016 (9) = 45/9
THE 9 is a year of completion, cleaning all the closets; physically, mentally, emotionally and spiritually. It's not new beginnings.
I felt Hillary would win in her 9 and feel complete which she did winning the popular vote and become president. Donald Trump won the electoral college and that's what counts to be President in 2016.
IN the 9 a lot of things come up from the past and that's why I said, " In the last days a lot of talk has been going on in many inner circles of the FBI, Wiki-leaks, and other sources that show more evidence of Hillary Clintons alleged activities."
I felt if she was going to loose this would be one of the reasons, which has been proven to be true. Also I said people are tired of her and demand a change. This also has been proven to be correct.
* * THE 9 Personal Year is very unpredictable and when you think things are going to be a certain way you're thrown a very powerful curve. This is what happened to Hillary.
WHAT is your Personal Year and what path are you on?
DONALD TRUMP AS THE NEW PRESIDENTIAL APPRENTICE
DONALD TRUMP was born JUNE 14, 1946
PERSONAL YEAR Of DONALD TRUMP
= 6 + 14 + 2016 (9) = MASTER 29/11
HE was declared President on 11 + 9 + 2016 (9) = MASTER 29/11 Universal Day
THIS election with both 11's in Numerology terms is divine intervention for this new boss of The USA Apprentice.
THE powerful Master 29/11 vibration seen in these two energies of Donald Trump vibrate to: LIGHT = MASTER 29/11 DESTINY yet the opposite of LIGHT is DARK.
DONALD in this Master 11 deserves to create harmony in the USA for people to come and work together. Yet the dark side will try to seduce and challenge him tremendously.
THE North Dakota Pipeline completion on Indian land was stopped in the last day before eviction by Obama temporarily. Trump has said that he honors the same path taken by the Pipeline.
THE pipeline if it continues with no rerouting the Numerology shows it's reflecting the 1776 American Revolution and the 1960's Peace Movement.
DONALD TRUMP is In a new version of The Apprentice that can bring positive results or slowly destroy him, the people and the USA.
LET US PRAY, STRATEGIZE AND DO SOMETHING TOGETHER TO MAKE A DIFFERENCE!
* * *
" Since armies are legal, we feel that war is acceptable; in general, nobody feels that war is criminal or that accepting it is criminal attitude. In fact, we have been brainwashed. War is neither glamorous nor attractive. It is monstrous. It's very nature is one of tragedy and suffering."
– DALAI LAMA
* * * * * *
" Begin to ask your soul today. Show me how to by-pass the lies and the deceptions that are given to me and humanity as a truth. Show me how to see the truth in every situation, in every word, and in every person."
– Gillian Macbeth Louthen
* * *
GO to www.youtube.com
YouTube
www.youtube.com
Enjoy the videos and music you love, upload original content, and share it all with friends, family, and the world on YouTube.
PUT in "Julian Tesla Meditation" and in 11 minutes create a Tesla Field, a solar sun of your full potential within and around you ready to create Miracles!
THE NEW " Julian Psychic Healing Meditation" is AVAILABLE on Youtube
GO to a Dr. First if needed. Be empowered and create health, wellness and a divine smile in your soul in 12 min.
* * * * * *
I AM so happy to share the secrets of DECEMBER with you!
* * *
ACTIVATE YOUR TOOLS OF ALCHEMY IN DECEMBER 2016
" Everything in the Universe is number and that number has a meaning."
– Pythagoras, Father of Mathematics and Numerology.
THE SOUL SIGNATURE OF DECEMBER a 12/3 TRINITY SAYS:
– LOVE this trinity of beauty, romance, enchantment and create magic, blessings and miracles.
– ACCESS the 12th Card of the Tarot of the "HANGMAN"
– SEE the world reversed and upside down adding another perspective and dimension to what is really going on.
– PROCESS all the good and bad things that have happened to you in 2016 a 9 Universal Year.
– CALL OUT to the heavens and say "Thank you. I am stronger, wiser, kinder, more conscious as I evolve in my Life Purpose and true mission of unconditional love going into 2017!"
– BE open to express your creative and artistic genius in all its dimensions.
– LIKE how you speak and what you have to say as you'll be speaking a lot in 2017.
– SUPPORT people, films, literature and all media that has consciousness and is progressive.
– CAREFUL of what media says is FAKE NEWS!
– DO your own research and do not take any ones word as truth, the law and the word of God!
– KNOW the secrets of Numerology and what the numbers are telling you!
– LEARN how to calculate Names, Birthdates and what Personal Year you, family, friends and strangers are in.
– THINGS are not what they seem.
– CALL upon your guides and angels to be with you.
– DO a Hypnosis Past Life Regression to understand what parts of you and what your doing and feeling are Life patterns of your past life that you're breathing, thinking and living today.
– SIT down and eat, drink and talk to people who have opposite ideas and ways of life then you do without prejudice or judgment of any kind.
– WHAT ever you do please do not carry the ravages of anger, jealousy, revenge and any old ugly feelings into 2017!
– IF you do carry old baggage, get ready to walk in your hell of toxicity and be in your own physical and mental war in 2017.
– EAT, drink and think healthy and organic when you can.
– SHARE and inspire others to celebrate life.
* * * SAY it out loud and believe and feel these words:
" I am infinite mind, infinite knowledge, infinite power, infinite awareness, infinite wealth and infinite love. I am perfect in my heaven and ready to Share!"
DISEASE = 4 + 9 + 1 + 5 + 1 + 1 + 5 = 26/8 DESTINY VIBRATION Of POWER.
THE 26/8 says your mind and body are in disequilibrium; you're insecure, feeling inferior, hurt and giving your power away.
* * * SAY this out loud everyday:
" EVERYDAY in everyway I am getting better and better."
" DISEASE, illness and injury are not a natural part of my being. PERFECT health; physically, mentally, emotionally, spiritually, financially and beyond is my natural state of being."
" MONEY is a beautiful energy that flows to me endlessly. I attract it; it's value, essence and spend it on things that are necessary. I love the energy of money and what it brings."
* * *
SAY IT OUT LOUD at least 3x a day:
"I love myself.
I am prosperity: physically, mentally, emotionally, spiritually and financially.
I am ready to serve.
I am pure consciousness and love."
– JULIAN MICHAEL
* * *
GET A GIFT
For WINTER
Special Deals Of
Sacred Numerology with TAROT & Or Hypnosis Past Life Regressions!
* * * * * *
PROSPERITY PRAYER
"GOD is my un failed infinite supply. Large sums of money and abundance come to me quickly, in peace and in perfect ways. My decision to let Universal Power work for me, frees me from the need to press for what I desire." – Anonymous
* * *
I LOVE THE WINTER MAGIC IN NEW YORK!
CALL 323-384-1333, Text and Message Me.
GO to my Facebook, Linkedin and Instagram for information to Evolve!
THE NOVEMBER 2016 Newsletter was lovingly received. Thank you.
PLEASE review, share and see other enlightening Newsletters on my website www.julianmichael.net Learn more about Numerology, Hypnosis and more.
MY Face book Julian Michael group "Numerology Pearls of the Day" is my own version of a mini Newsletter. Enjoy it!
JOIN the group or tell a friend and receive a precious message and photo of inspiration everyday. Use these Pearls of Wisdom as a tool to get aligned to embrace the day and feel Delicious!
RECEIVE the Pearls also on my Twitter: JulianMichael11.
ON Instagram, go to solmagik Be Illuminated!
CALL or Email me for a personal session of being a CELEBRITY NUMEROLOGIST awakening the Celebrity in YOU!.
* * * I am more then ready to serve you with professional insights, career advice, success in your business and personal relationships.
I do Name changes, A Name for your new business, Naming your Baby and or helping you to sell your home.
AS a medium, Reiki Master, Reconnective Healer and Spiritual Teacher, I do House Clearings and physical, mental, emotional and spiritual Exorcisms.
I AM a Hypnotherapist and Past Life Regressionist. I give sessions in Person, Skype . On the phone.
ASK me how Hypnosis is a very life–changing and simple
.
* *
THE POST ELECTION SPECIAL – BE THE "12/3" TRINITY OF ENLIGHTMENT IN DECEMBER 2016!
PEACE, BLESSINGS, WITH ALL MY HEART,
LOVE JULIAN xoxo
Photo of Julian Michael with my soul brother Mick Fleetwood by Livia Zeimet