Celebrating, Empowering Your Heart and Prosperity.
JULIAN MICHAEL, Numerology Life Coach, Reiki Master, Hypnotherapist, Past-Life Regressionist and Writer has guided thousands of people to create and materialize their heart's desires. Julian utilizes his special intuitive expertise and alternative healing modalities, combined with the sacred art of Numerology to reveal and help you fulfill your true destiny.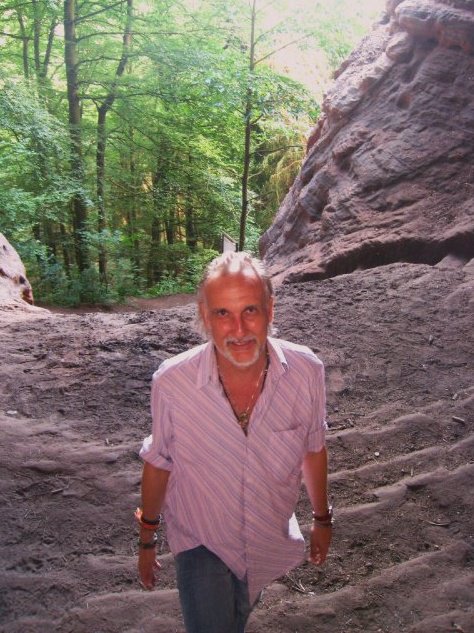 Growing up in New York City, Julian had a remarkable, mind altering, near-death experience at the age of ten. While he was healing, Julian began to communicate with the Spirit world. He graduated from City College of New York in Psychology, Education and Film. Relocating to Los Angeles in 1980, he entered the business world in Life Insurance and Marketing and studied with Masters in the field of Yoga, meditation, alternative medicine and parapsychology.
In 1986, Julian hosted a metaphysical radio show in Redondo Beach, California.
During that time, he came into contact with renowned Brazilian teachers and began incorporating their various healing techniques into his practice.
In 1989, he studied hypnosis with Gerald Kein, teacher and mentor to Dr. Brian Weiss of "Many Lives, Many Masters". Julian became a Hypnotherapist and with his skills, relocated to Brazil where he studied and became a Reiki Master. There he worked in spiritual centers with Master healers and Shamans assisting and serving the people. Julian took his metaphysical skills into the business world facilitating retreats, conferences, stress management workshops as well as conducting individual and group counseling sessions.
Julian Michael was chosen to speak at the ECO 1992 World Conference in Rio de Janeiro with The Dalai Lama, Political Leaders and World Celebrities.
One of Julian's most fascinating experiences occurred in Paraguay where he was invited to facilitate a special workshop on 'Unconditional Love' for the President of Paraguay, family members and Cabinet ministers of the dictatorial regime.
Julian has appeared on TV and radio in Athens, New York, Rio de Janeiro, Sao Paulo, Seattle and Los Angeles. He has been a regular on network television several times including ABC's Nightline, ABC's Good Morning America, CBS Early Show and CBS Saturday Morning Show. The Best of LA Festival featured him on the hit KLSX 97.1 FM "Conway & Steckler" radio show in Los Angeles.  He was a special guest on "Hot Jam" 92.7 FM to debunk the theory behind 6-6-06. He has conducted a series of workshops at the prestigious Esalen Institute in Big Sur, California. He was interviewed in the LA Times about past presidential elections and recently wrote about 1-11-11 on MTV's website.
Since 1999, Julian has published a monthly newsletter which is a big hit around the world to all his fans that can be also read here at www.julianmichael.net In 2004, collegue and renowned astrologer Stephanie Azaria asked Julian to write daily column on her website (www.thecosmicpath.com – 500,000 readership). From 2005 – 2006, Julian hosted his own unique and original monthly cable access TV show in Los Angeles.
Julian has headlined the Learning Annex a number of times in Los Angeles and New York City. He drew a standing ovation in both cities. He has spoken at The LA Conscious Life Expo for many years and will share his knowledge again in 2011.
Julian's Celebrity readings include appearing at Flaunt Magazine Oscar House in the Hollywood Hills and Showtime Golden Globes Gift Houses. Celebrities who have experienced Julian's magic include: Jim Carrey, Eddie Murphy, Baba Ram Dass, Jon Voight, Dominick Dunne, Sally Kirkland, Stephen Collins, Kevin Kline, Corey Feldman, Bud Cort, Elizabeth Berkley, Cloris Leachman, Peace Mom, Cindy Sheehan, Eunice Kennedy, Sargent Shriver and Alanis Morrissette.
Julian has a series of visualization and meditation CD's coming out including 'Memories of the Soul' and is currently working on his book, "Numerology – The Sacred Language, a Transpersonal Journey". He also is currently working on a Children's book.
Julian's achievements and enlightening work empowers everyone from business executives, psychologists, to all age groups of people to celebrities creating a worldwide demand for his talents.
His success is owed to his charismatic, entertaining style, refreshingly original approach and his truly authentic intuitive gifts. Julian calls home wherever he may be – Athens, New York, Rio de Janeiro, Sao Paulo, Hawaii or Los Angeles. Watch out for his Empowerment parties and Soirees in your hometown.
Watch his 1-minute video Predictions daily on Youtube at Julian Michael Numerology or Numerology Pearls of the Day on his Facebook page.