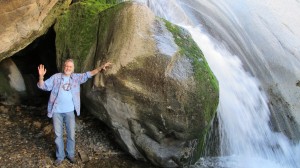 BELOVED ANGEL,
WELCOME to the magic of August, an 8 vibration. Merge your spiritual arsenal of July with the physical, material, money world's and awesome inspiring power vibration of the 8. Feel strong, empowered and ready. Know the secrets to move mountains and create miracles in August 2011.
* * * * *
I'M so jazzed to be in the magic of NYC, my birthday month in August. It's an amazing adventure as I go into my blessed Master 33/6 Personal Year Cycle on 8-21-2011. What is your Personal Year?
THANK YOU for your readership, encouragement, support and love in these magical times. Please be free to SHARE this Newsletter. Let me know what you think about this and anything else you have on your mind.
LIVIA, what a beautiful vision you are and have in creating amazing photos every month. I love the waterfall as I can hear its flow in the above photo. The Fireworks photo below taken in NYC on 7-4-2011 is an awesome celebration. Thank you. Contact Livia at clivvv@yahoo.de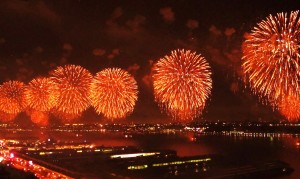 READ and be empowered by my "Numerology Pearls of the Day" on Facebook everyday under Julian Michael.
* CHECK OUT THE VERY ENLIGHTENING FEATURED EVENTS IN THIS NEWSLETTER
CALL 323-384-1333. Email me and visit my website www.julianmichael.net I'm available to see you personally for Numerology or Hypnosis Past Life Regressions. YOU can also call me on Skype at Julian Michael and I am ready to speak at your party, club or organization.
ACTIVATE YOUR TOOLS OF ALCHEMY THIS AUGUST & CELEBRATE!
" EVERYTHING in the Universe is number. That number has meaning a consciousness."
– Pythagoras
EMBRACE THE 8 SECRETS OF AUGUST
YOU ARE an awesome human being of power!
LIVE in harmony and beyond with the two golden spheres that make up the 8.
THE bottom is your physical, money world with the top of your mental, spiritual and intuitive one.
CLEAN up all the garbage and negative attachments in your life of the last months, especially all judgments about a friend, family member or a government leader. Be aware that you can clog up the circulation of the 8. So emotionally release and be free!
LOVE who you are and what you do.
HAVE self-discipline, concentration and intention to manifest to achieve beyond your wildest dreams.
HORIZONTALLY the 8 is a metaphor of the breasts of a woman. Nurture and serve people. Know and live the Laws of Prosperity.
BELIEVE! Feel it in the very essence of your being. Say these words of wealth out loud 3 times a day:
"I am worthy, deserve, and attract total prosperity in my financial, physical, emotional and spiritual life. I love myself. I am ready for the inflow and outflow of prosperity now. "
"MONEY is a beautiful energy that flows to me endlessly as I attract it, value its essence and spend it on things that are necessary. I love the energy of money and what it brings."
RELAX and be patient. All relationships, business or personal, are becoming more intense. People are looking for security, centeredness and their life mission with the spiritual shift that is occurring now.
I love what the Dali Lama says, " Be kind and friendly to everyone. Whatever you do please do not hurt or harm them."
"In the house of lovers the music never stops, the walls are made of songs and the floor dances."
– Rumi
SICKNESS, disease, any injury is not a normal state of being. Your mind, body and spirit embrace perfect health in everyway and everyday.
CIRCULATE, exercise, dance, sing move your body and mind. Be clear, free to experience your abilities and unlimited potential.
VISUALIZE and go in and out of the two circles of the 8 of infinity. Connect with this free flowing channel of infinite mind, infinite power and divine love.
WHEN you leave infinity say, 'Thank you." Open your eyes, contemplate and work with the images, words, feelings you experienced.
"WE are not our bodies, our egos, even our personalities. These are all part of the changing scenery. We are not the scenery, we are the seer who creates and witnesses the changing scenery."
– Maharishi Aver-Veda Association of America
* * * * *
* FEATURED EVENTS IN NYC & LOS ANGELES
BRING YOUR FRIENDS, EMAIL & TWITTER
COME join me as one of the panelists in Manhattan on:
Thursday, August 25th
The Evolution of Consciousness: Codes to Reality
Panel Discussion & Networking
Moderated by Alan Steinfeld
7:00pm – 9:30pm
Sponsored by META Center New York & Alan Steinfeld, New Realities
WHAT does our birthday say about our life's path? What is our karmic destiny? And how can we activate our highest potential within our incarnation experiences?
THESE are some of the questions that we will be addressing and answering with some of New York's most respected figures in the field of human potential. (Other panelists to be announced). Panel discussion is from 7pm – 8:45pm and will be followed by 45 minutes of networking opportunities with event attendees and the panel. Light refreshments will be available during the networking session.
http://www.NewRealities.com
FEE: $15. Please call the META Center to reserve your seat: 212 736 0999 Ext. 1 – MC, VISA and Discover accepted in advance. Cash only at the door. RSVP, as seating is limited.
* * * * * *
DOCUMENTARY FILM "POETRY OF RESILIENCE" BEING SHOWN IN L.A.
I loved this movie! It was heart opening, thought provoking and it makes a difference. I know and embrace Producer Sabine Schenk who's the co-producer on this film. I love the work she's doing to get this film out to awaken your heart and mind connection. Go to her website and see her work.
Sabine Schenk
Schenk Productions, Inc.
C: 917-650-3535
www.schenk-productions.com
"This film creates a lyric of its own. Highly recommended."
Brian Turner, acclaimed poet-soldier
"Dear Friends and Colleagues,
We are proud to announce that Poetry of Resilience directed by Academy Award® nominated director Katja Esson will have its world premiere as part of the Shorts Program at the IDA DocuWeeks. This is a very significant step for the film as DocuWeeks selects films for theatrical runs that are specifically designed to qualify them for Oscar consideration.
The filmmakers will be attending the follow_ing screenings*… we hope to meet you there! "
The Theater
The Laemmle Sunset 5
8000 W. Sunset Boulevard
Los Angeles, CA 90046
The Show Times
Fri 8/19 – 4:40 PM* – World Premiere
Sat 8/20 -12:15 PM*
Sun 8/21 – 7:00 PM*
Mon 8/22 – 4:40 PM*
Tue 8/23 – 12:15 PM
Wed 8/24 – 7:00 PM
Thu 8/25 – 4:40 PM
(Total running time: 93 minutes)
For tickets and more details please visit the IDA DocuWeeks website:
http://www.documentary.org/docuweeks2011/showtimes/#la072011
WITH grace and humor Poetry of Resilience tells the story about six poets who survived some of the worst political atrocities of the 20th century and summoned their creative voice of poetry to tell stories of survival and witness: different political conflicts, cultures, genders, ages, and races – one shared human narrative. International political atrocities, human resilience and the powerful language of poetry come together here as never before on film.
GO to www.poetryofresilience.com And join our conversation on Facebook.
* * * * *
CARING/ SHARING
IF you dare to care; then share!
If you share, pay heed!!
God will reward; every good deed!!!
– By Hugh E. Traulsen
– Dedicated to his wife Ann
HUGH is " the heartbeat of America." An Earth Angel that I've had many enlightening conversations with on the phone. He's very supportive and empowering to serve you and human beings to love.
To learn more about this beautiful man Go to www.creativity777.com
* * * * *
PROSPERITY PRAYER
GOD is my UN failed infinite supply. Large sums of money and abundance come to me quickly, in peace and in perfect ways. My decision to let universal power work for me, frees me from the need to press for what I desire.
– Anonymous
* * * * *
I am a Hypnotherapist and Past Life Regressionist. My teacher Gerald Kein is the guide and mentor of Dr. Brian Weiss of "Many lives and Many Masters." I'm available to do sessions with you. CALL 323-384-1333
* * * * * *
HAPPY AUGUST 2011!
PEACE, BLESSINGS, WITH ALL MY HEART, LOVE JULIAN xoxo